Aircraft Maintenance Repair and Overhaul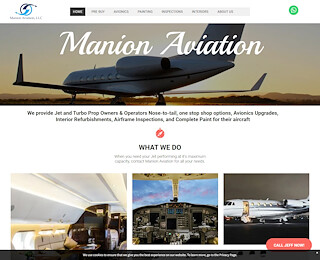 At Manion Aviation, we've always believed that an aircraft is more than just a mode of transportation; it's an asset, a reflection of its owner, and an embodiment of freedom and possibility.
Our 45+ years in the business and work with over 1,135 clients have instilled in us the importance of regular maintenance.
Here's why it's non-negotiable. But first, if you need airframe maintenance or aircraft maintenance repair and overhaul, contact Manion Aviation today.
Ensuring Durability with Expert Painting Services
An aircraft's exterior is its first line of defense against the elements.
We've found that no matter how well an aircraft is maintained, the protective properties of its paint start to deteriorate within 7 years.
This exposes the skin to corrosion, leading to potential costly repairs.
Why wait for the paint to fade when you can reimagine the possibilities?
We are equipped and enthusiastic to paint various aircraft types, from the majestic Challenger and Falcon to the versatile Boeing 737 and even helicopters.
With us, your aircraft isn't just protected; it's transformed.
Keeping You Airborne with Scheduled Inspections
Every aircraft, regardless of its use or age, is mandated to undergo routine inspections.
This isn't just a bureaucratic requirement–it's about ensuring safety, performance, and profitability.
At Manion Aviation, our full-time staff, comprising experienced A&P Factory Trained Technicians, are committed to reducing the downtime of your aircraft.
Every hour your jet stays grounded is an hour it's not generating revenue.
Today's aircraft are marvels of engineering complexity.
Whether it's a hydraulic, mechanical, or electrical issue, our technicians are adept at identifying and rectifying problems swiftly and efficiently.
Adhering to strict FAA requirements, we manage all necessary paperwork, ensuring your aircraft is airborne as soon as possible.
Making an Impression with Interior Refurbishments
The interior of a corporate jet is more than just seating and decor–it's a statement.
Whether it's for your employees or esteemed guests, the interior should communicate excellence and finesse.
We at Manion Aviation understand the nuances of a top-quality interior refurbishment.
From entertainment modifications to the latest trends in design, we aim to rejuvenate your aircraft's interior, ensuring it's both functional and captivating.
Whether you're looking to remedy worn seats, adapt to new styling trends, or repurpose your aircraft's interior, our design department has a plethora of samples and options to revolutionize your aircraft's ambiance.
Avionic Upgrades: Staying Ahead with Modern Technology
In an age where technology evolves rapidly, ensuring your aircraft's avionic systems are up-to-date is paramount.
At Manion Aviation, we recognize that an upgraded avionic suite not only enhances flight safety but also improves operational efficiency and passenger experience.
Our team is well-versed with the latest in avionic technology, from state-of-the-art communication systems to advanced navigation aids.
Collaborating with us means that your aircraft will always remain at the forefront of technological advancements, offering both pilots and passengers a seamless and modern flying experience.
Modern avionic upgrades often come with an intuitive user interface and enhanced functionalities that can reduce pilot workload.
This means safer flights, improved fuel efficiency, and better adherence to flight regulations.
At Manion Aviation, we don't just upgrade; we transform, ensuring your aircraft is always future-ready.
Passion for Excellence: The Manion Aviation Difference
What truly sets Manion Aviation apart is our unwavering commitment to excellence.
While we provide a plethora of technical services, it's our passion for customer service that stands out.
We don't see our clients as mere transactions; we see them as partners in a shared journey towards aviation excellence.
Every project, whether it's a minor avionic upgrade or a complete interior refurbishment, is handled with utmost care and precision.
Our founder, Jeff Manion, has always emphasized the importance of understanding the unique needs of each client.
With his vast experience and our dedicated team, we've cultivated a culture where every task, big or small, is executed with meticulous attention to detail.
At Manion Aviation, we're not just maintaining and refurbishing aircraft; we're crafting unparalleled flying experiences.
Beyond Aircraft In-Flight Entertainment and Connectivity – Manion Aviation
At Manion Aviation, we are more than just a service provider; we are partners in your aircraft's journey.
Our founder, Jeff Manion, with his extensive experience in corporate jet aviation, has steered us with the ethos of providing exceptional quality at a fair price.
With 15 locations and a dedicated staff of 125, we are committed to ensuring your aircraft gets the care it deserves.
Your aircraft is a testament to human achievement and possibility. Let's ensure it remains that way.
Aircraft Maintenance Repair and Overhaul